How Covert Messenger Works & How It Uses Deep Rooted Psychology To Almost
Force People To Click Your Ads!
First of all the Covert Messenger is a super simple to use and install (1 click install) WordPress plugin. That means the software will work on any computer, all you need in order to use it, is a self hosted WordPress blog.
After you have installed and activated the plug in (only takes a few seconds) you will see a plugin admin panel like this...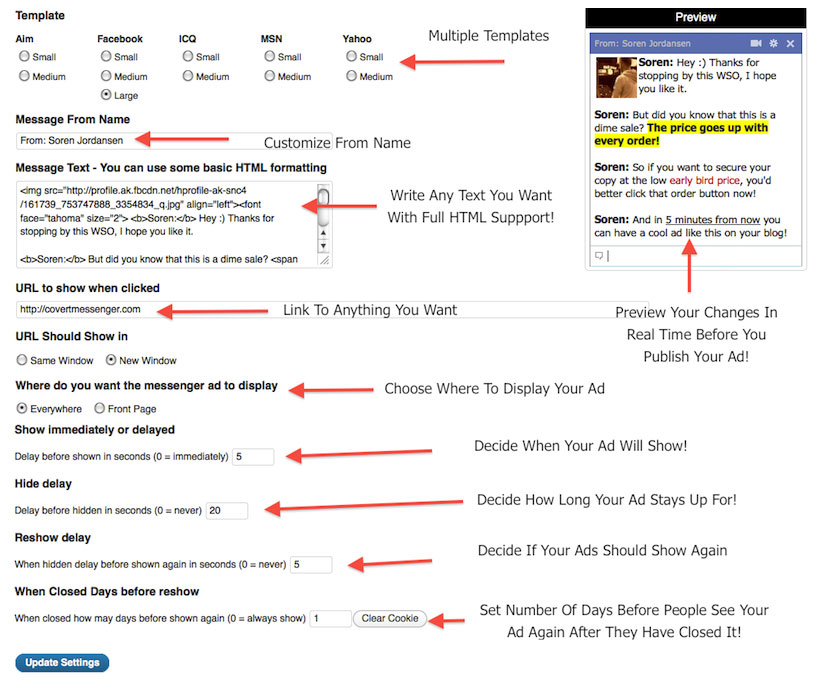 As you can see you can...
Choose between multiple great looking templates spanning all the most popular messenger programs
Customize the "From name" to

anything

you want
Write any text you want on your Covert Messenger. You can even use HTML to make text bold, use different

colors

and lots of other effects including images!
Preview your ad in real time as you create it!
You can link your Covert Messenger ad to any page you want. Affiliate links, CPA offers, your own sites etc. When people click anywhere on your ad they will go to the link you specified!
You decide if the link should open in the same or a new window when people click your Covert Messenger ad.
Choose if you want your Covert Messenger ad to display only on the front page of your blog, or on all pages and posts.
Show your Covert Messenger ad immediately, or set any delay in seconds you'd like + multiple other time and delay settings
And in just a couple of minutes you can have a Covert Messenger ad live on your blog.
It will look like a normal instant messenger notification - using the same familar templates people know and love!
Your visitors will instinctively be drawn to the notification to see who sent them a message
And then you will have a fully clickable ad there, perhaps looking something like this...
Here's a screenshot of of my blogs - notice the big sharing buttons right there!
As we now know up to 70% of the people of the people wanting to share that content will ignore those buttons - and instead mark and copy the text like I did here: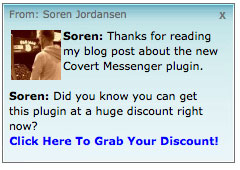 Do you think people will click that ad?
You bet they will - in fact our test have proven that...