Let's Take A Look At How The Covert Copy Traffic Plugin Works... And What It Can Do For You!
First of all... If you haven't done so already... I highly recommend that you watch the video above, where I give a completely walkthrough demo of how this powerful plugin works.
But if you prefer to read...
Covert Copy Traffic is a super simple to use and install (1 click install) WordPress plugin. That means it will work on any computer, all you need in order to use it, is a self hosted WordPress blog.
In fact as soon as you have installed and activated the plugin it will already be working on your blog - without you having to do anything else!
The 7 seconds mentioned in the headline was not a cheap gimmick - we do mean that very literally!
So lets look at an example of what this powerful plugin does...
Here's a screenshot of of my blogs - notice the big sharing buttons right there!
As we now know up to 70% of the people of the people wanting to share that content will ignore those buttons - and instead mark and copy the text like I did here:

Then they would paste the copied text into email or some other source - and I would get nothing from it!
But because I have the Covert Copy Traffic plugin installed - some clever "magic" happens behind the scenes...
And when they go to paste the content into their email or Facebook - this happens...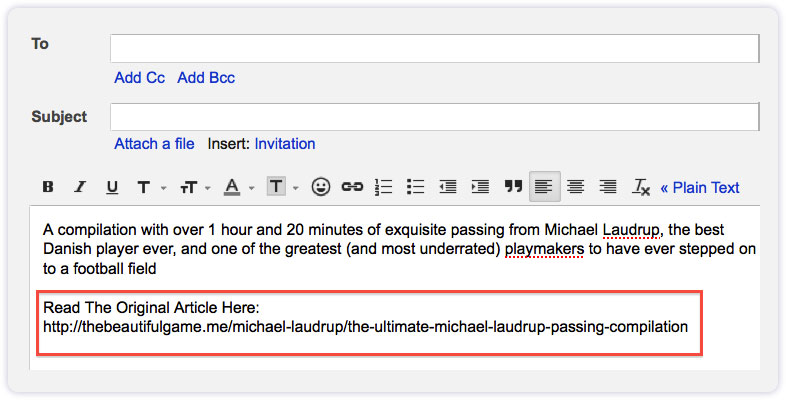 Notice how the Covert Copy Traffic plugin automatically inserted my text and the link to the post the content was copied from!
Now whenever people copy and paste my content to Facebook, Twitter, forums or other places I automatically gain a backlink and more traffic.
And more importantly - since we know email is the number 1 sharing method...
When people email this to a friend - It might get forwardes, potentially going viral
My link and text will be in all those emails - simply because I took the 7 seconds to install this game changing plugin!
And this is what the plugin does automatically, right out of the box without the need to change any settings!
But of course we gave you options to completely customize your links and text - as you see in the screenshot below...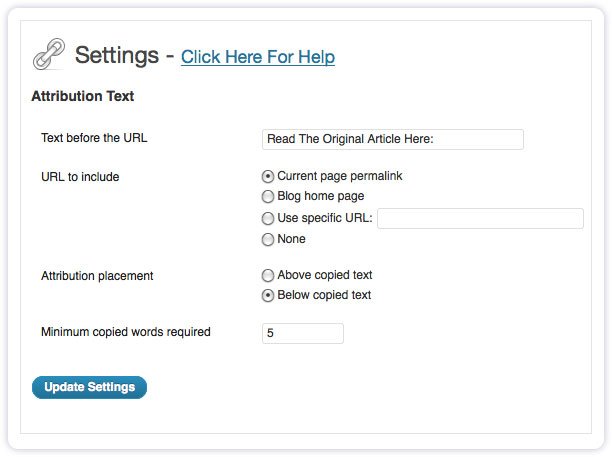 You can...
Change the text appearing before your link. You have unlimited space here - and you can even leave it blank if you only want to show a link.
You get full control over what link you want included when people copy and paste from your site.
You can link to the individual sites the content was copied from (great for deep links and targeted traffic).
You can choose to link your blog's home page (great if you are trying to rank the front page or get traffic there).
You can link to any website - this could for example be an affiliate link (a great way to profit from social sharing).
You can even choose not to use any links, if you just want the text to appear.
You decide if you want your attribution (text and link) to show above or below the copy-pasted content.
And finally you can set a minimum number of copied words required before the plugin activates your magic (if you set it to zero it will kick in if they copy as much as a blank space from your site!)
That was the "under the hood" look at how the plugin works and how easy it is to use.
And even though this is so simple to install and use a 5 year old could do it...
This Strategy Works Like Crazy And Here's Why...
We already know that most people share content via email, and almost all of them do so by copy and pasting.
By using this plugin, you are not trying to get people to change their habits.
You'd be quite happy to sit back and let them continue doing what they have always done...
Because now you reap the benefits every time someone copies and shares your content!
And the Covert Copy Traffic plugin does not interfere with your other social marketing strategies in any way.
It simply comes in and mops up all the links and traffic you were missing out on before.
Here's an example for you using the text from the screenshots above...
If people click the share button on that site and choose Facebook - it would post there as normal and all would be peachy.
But again - we now know that a huge chunk of them will copy and paste your content into Facebook and normally this would leave you with nothing.
Now with Covert Copy Traffic this happens when they paste your content into Facebook...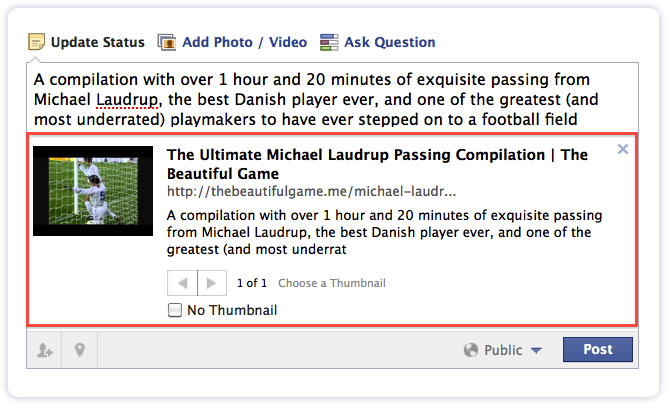 As you can see, the link back to your site is automatically included here too!
Using technology like this is so powerful in generating links and traffic that would otherwise have been lost...
That major companies like:
NBC
National Geographic
The New York Post
The Sun
And The Daily Mail
All use this strategy on their websites!
And we can certainly see why - because we have found that...